> being horizontal - it looks like she's OK!!!!>>
>
> Thats great Kate! I knew it would turn out alright.


Except I still can't find the f'ing keys! Your hotwiring instructions would only be good for as long as the gas in the tank holds out....

(The key opens the cap, as well.)

Did find my missing watch and flyswatter, though, so things are looking up. Now back to turning the house upside down...
---
Date: Mon, 3 Sep 2001 09:27:11 -0400 (EDT)
From: kate@katewerk.com
To: "well_ard@deleted"
Subject: RE: :) :) :)
On Mon, 3 Sep 2001, stephen.phillip@bt.com wrote:
> Whoo-Hoo a result. I'm glad she's back home- hope the police can trace the
> thief (es). Hopefully no serious damage to Aretha?
No serious damage - a broken turn signal lens. (Anybody got one to sell?)
The RCMP excuse was funny. Becuase she was lying in the grass, there was no way to get prints
??
I'll have to remember that next time I commit a homocide. Throw the murder weapon in the grass...
---
I gave up on finding my keys...
---
Date: Mon, 3 Sep 2001 13:45:20 -0400 (EDT)
From: kate@katewerk.com
To: cbr@deleted.com
Subject: The world needs more female engineers

I gave up on finding my keys. Or rather, I decided to give in to The Fates and let them be found the old fashioned way - have new ones cut.

So, I turned down an offer from a friend to truck Aretha to the city, so he could take it apart and send out the main switch to get it to a locksmith for new keys.

I did it myself.

And I did get it apart, but not before forming some opinions about the design of motorcycle componants, and the absurd things one must do to get at one simple fucking switch.

Take mini fairing off, take out headlight, so one can get at the fucking nuts to remove the headlight holderthingie, then, discover that you own no screwdriver capable of removing the screws that hold the switch to it's support, so opt to remove the support bracket instead, and make notes about where a previous owner had reinforced wiring with electrical tape (obvously for a reason) hold breath while finding out if the wiring clip will actually fit through the opening at the back of the headlight holder...

Which reminds me - I better go out and label all those fucking bolts and screws....

Didn't they have velcro in 1981?
---
| | |
| --- | --- |
| | Keys and bike and Kate reuinited, and planning a trip to Michigan and parts East, I decided that carb job could wait no longer.... FYI - this is what $126.00 (plus tax) looks like in motorcycle parts... |
---
This pic has nothing to do with Aretha.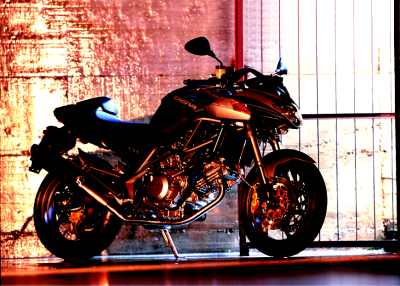 The Cagiva V-Raptor.
This is the bike I'd own, if it were available here, and I like, had money.
---
And eastward we did go. With dog and bike packed in truck, with a few clothes and the requisite grooming stuff, we headed to first Monroe, Michigan, spent a few days in Virginia resting up, then to just north of Philadelphia for the Montgomery County Kennel Club shows, loaded again and made a midnight run to visit Justin and Beth. Justin was sick with the flu. A few hundred miles to the westward, where Jeff and Jennifer Kufalk put up with me for a couple of days.... and thanks to Jack and Dave Beaudry, I finally got her off the truck for some real riding in Wisconsin.

We spent the rest of the day riding. Kate really pours it on. You'd never tell that she's been riding only a year or so. She let me have my way with Aeretha later in the day. Yikes! I think Justin is right, she needs a new bike. I'd never ride that thing as fast as she does!

I can't wait till our next meeting, it was a blast, and it was great to finally meet you Kate.

Jack
---
I don't think Jack and Dave had ANY idea at the time, how much I appreciated their day escorting this newbie through the beautiful winding roads of Wisconsin.

I think you have to live here, where, as beautiful as it can be - it sucks the big black donkey dick when it comes to motorcycle-friendly roads. For an idea of what I mean, these pics were taken just after I crossed the border from North Dakota.

Followed by this premonition of things to come ....

Time to winterize, I guess.... Canada, eh?
---
November, 2001.

Well, I winterized her, all right. Fixed some scratches on the tank I'd inflicted with the buckle on my jacket, while pushing her off the center stand... cleaned her up, tank drained, carbs full of oil, and into her resting spot in the living room for the winter.

Then I decided to go to Denver to a dog show.

Steve Holden (from the cbr list) lives there, and the weather forcast predicted tolerable temperatures. We went for a couple of rides in the mountain parks west of Longmont. The first was in the evening, to a small town up the moutnain. Great twisty roads, the high altitudes that Aretha seems to like, elk, snow in the ditches. Frozen fingers. Frozen arms. Frozen body. My legs were warm enough though. So we decided a morning trip would be better.

I had to show my dog at 1 pm, so that gave us about 3 hours riding time.

When I got back, I was walking a little more carefully.

The ride started out cool, but better than the night before. The sun on black leather helps a lot... successfully negotiated my first ice patches up high in the mountains where melting snow was running across the road in shady spots. Steve is a sensible rider - just fast enough to be lots of fun, but slow enough to make the fast stops required when you aren't sure what's up in front around the next corner.

Or the next intersection.

After stopping for coffee to warm our hands in a little quaint remnant of the 1960's hippie era, we began to head back to the highway, with only one intersection to negotiate. As it turned out, it was one too many. A car made one of those "moves"... as though it were about to cut across our line of travel, and Steve hit the brakes on his F4. I was closer behind him than usual, becuase we were going slowly, and when I hit mine, I was on a surface of fine road sand.

Thankyou to the cow who gave her life to save my skin. As lowsides go, it was a measly little thing. Just enough to send me on my stomach a few feet, scrape my jacket, my helmet visor... *THINK* ABOUT THAT, YOU HELMETLESS FOOLS OUT THERE .. and bounce Aretha down the street. A motorist was there to help me pick her and myself up before Steve could even get turned around. No great harm done. A tankslapper means I'll be repainting her again. A broken oil pump cover, that my roll of electricians tape took care of, and a broken brake lever - the most problematic, as her brakes aren't great to begin with. But, after dusting myself off and checking her over, we were both declared fit to continue. Just enough lever to catch with two fingers, we made it back off the mountain, and I had a story to alarm my already alarmed dog people friends that afternoon.

So, now she is in cold storage. One of these days, my trusty bike mechanic from Unique auto body and I are going to take a case of beer over there, so I'll have something to cry into as he makes up a long list of the parts she needs to repair both the damage, and bring her up to a better roadworthiness level.

Gonna have to do that if she stands any chance of passing inspection for a track day this summer...

heh heh

Page 3!