Am.Can.Ch.Benalta Batman ROM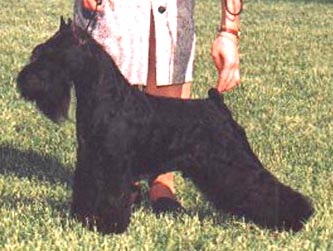 June 27, 1995 - June 27, 2008

A video tribute to Bruce, by Eduardo and Mateus Dornelles of Brazil.

"Bruce" finished both his titles as a puppy - winning his first of many groups in Canada at the age of 10 months. He earned his first major in the USA the weekend of the Twin Cities MSC, then 2 weeks later at the prestigious AMSC Great Western (California) swept the points to finish. His first appearance as a special in the US netted him Best of Breed at the Michigan MSC.

"Bruce" was DNA tested for Myotonia Congenita, by the Josephine Deubler Genetic Disease Testing Laboratory at the University of Pennsylvania and is NORMAL. (non-carrier) In 2003 he was ERG'd high normal at the University of Saskatchewan. Carrier of the recessive gene for retinal dysplasia.

Ch.Sandcastle Goodguyswearblack
Click on the thumbnails to see more pictures of Bruce
---

&nbsp&nbsp&nbsp
&nbsp&nbsp&nbsp
---
A few of the "Batkids"
---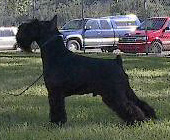 ---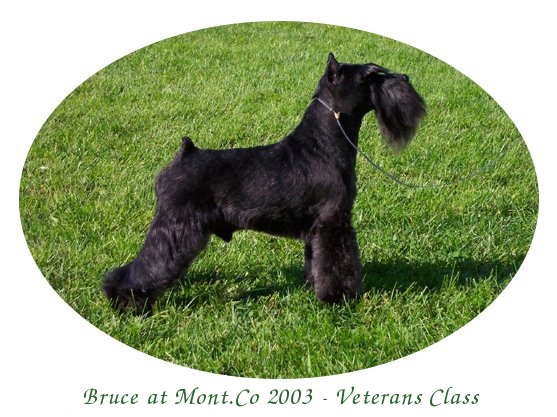 ---
&nbsp&nbsp&nbsp&nbsp&nbsp&nbsp&nbsp&nbsp&nbsp&nbsp&nbsp&nbsp&nbsp&nbsp&nbsp&nbsp&nbsp&nbsp&nbsp&nbsp&nbsp&nbsp&nbsp --Am.Ch.Sandcastle's Merlins V Sole Baye
&nbsp&nbsp&nbsp&nbsp&nbsp&nbsp&nbsp&nbsp&nbsp&nbsp&nbsp&nbsp --Am.Can.Ch.Sandcastle's Merlins Shadow
&nbsp&nbsp&nbsp&nbsp&nbsp&nbsp&nbsp&nbsp&nbsp&nbsp&nbsp&nbsp&nbsp&nbsp&nbsp&nbsp&nbsp&nbsp&nbsp&nbsp&nbsp&nbsp&nbsp --Am.Ch.Sandcastle's Shadowfax
&nbsp --Can.Ch.Sandcastle Goodguyswearblack
&nbsp&nbsp&nbsp&nbsp&nbsp&nbsp&nbsp&nbsp&nbsp&nbsp&nbsp&nbsp&nbsp&nbsp&nbsp&nbsp&nbsp&nbsp&nbsp&nbsp&nbsp&nbsp&nbsp --Am.Can.Ch.Sandcastle's Ladies Choice
&nbsp&nbsp&nbsp&nbsp&nbsp&nbsp&nbsp&nbsp&nbsp&nbsp&nbsp&nbsp --Am.Ch.Sandcastle's Shadow Love
&nbsp&nbsp&nbsp&nbsp&nbsp&nbsp&nbsp&nbsp&nbsp&nbsp&nbsp&nbsp&nbsp&nbsp&nbsp&nbsp&nbsp&nbsp&nbsp&nbsp&nbsp&nbsp&nbsp --Sandcastle's Shadowdancer


Am.Can.Ch.Benalta Batman ROM "Bruce"

&nbsp&nbsp&nbsp&nbsp&nbsp&nbsp&nbsp&nbsp&nbsp&nbsp&nbsp&nbsp&nbsp&nbsp&nbsp&nbsp&nbsp&nbsp&nbsp&nbsp&nbsp&nbsp&nbsp --Am.Can.Ch.Minuteman Eleventh Hour ROM
&nbsp&nbsp&nbsp&nbsp&nbsp&nbsp&nbsp&nbsp&nbsp&nbsp&nbsp&nbsp --Can.Ch.Minuteman Evergreen Everblue ROM
&nbsp&nbsp&nbsp&nbsp&nbsp&nbsp&nbsp&nbsp&nbsp&nbsp&nbsp&nbsp&nbsp&nbsp&nbsp&nbsp&nbsp&nbsp&nbsp&nbsp&nbsp&nbsp&nbsp --Can.Ch.Minuteman Pyromania
&nbsp --Benalta's Blue Suede Shoes
&nbsp&nbsp&nbsp&nbsp&nbsp&nbsp&nbsp&nbsp&nbsp&nbsp&nbsp&nbsp&nbsp&nbsp&nbsp&nbsp&nbsp&nbsp&nbsp&nbsp&nbsp&nbsp&nbsp --Am.Can.Ch.Minuteman Eleventh Hour ROM
&nbsp&nbsp&nbsp&nbsp&nbsp&nbsp&nbsp&nbsp&nbsp&nbsp&nbsp&nbsp --Conlar Illusion Of Benalta
&nbsp&nbsp&nbsp&nbsp&nbsp&nbsp&nbsp&nbsp&nbsp&nbsp&nbsp&nbsp&nbsp&nbsp&nbsp&nbsp&nbsp&nbsp&nbsp&nbsp&nbsp&nbsp&nbsp --Am.Can.Ch.Windwalker's Dusty Damsel

back to Minuteman page&nbsp&nbsp&nbsp&nbsp&nbsp&nbsp&nbsp next